This post may contain
affiliate links
. Regardless, I only recommend sites I've researched and/or used and trust.
Many people have expressed interest in ride sharing driver jobs. Unfortunately, a lo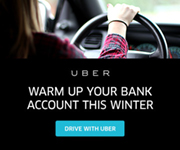 t of people are having similar issues. Ether they don't have a car or their car doesn't meet the requirements of the ride sharing company. Well I have a solution for you all. There are companies that you can get a car to drive and provide ride sharing services with.
HyreCar

HyreCar is an online marketplace where you can rent a car to drive for ride sharing platforms.
Requirements
You must:
Hold a current, valid driver's license.
Be at least 21 years of age.
Driver driving history may not show:
a)  A major violation in the last 3-5 years
b)  More than 2 minor violations in the last 3 years, or
c)  More than 1 minor violation in the last year
Have an in-state driver license, licensed for at least one year in state you want to rent car.
Possess a mobile phone in your own name that we can verify through text message.
Be a registered user of HyreCar.
Bankruptcies or repossessions are frowned upon.
Fees
A security deposit is require to rent one of the available cars.
Insurance
Insurance is included in all rentals.
Breeze allows people without a car to lease a Prius to drive for platforms like Sidecar, Lyft and Uber.
Requirements
You must:
Be at least 21 years old
Own a smartphone
Have a valid in-state driver's license
Be licensed to drive for at least a year prior to applying
Have a clean driving record
Be fluent in English
Bankruptcies or repossessions are frowned upon.
Fees
There is a membership fee as well as a weekly rental/lease fee. Outside of those, if you go over your weekly mile limit, you are charged 0.15/mile and there is a $5 late fee for not paying your lease on time.
Insurance
You are responsible for maintaining insurance on your vehicle that meets our minimum coverage requirements.
Hertz has teamed up with Lyft to offer rentals car for those who wish to use them to be a rideshare driver.
Requirements
You must:
Be approved to drive on the Lyft platform

Be in good standing with Hertz

25 years and older

Have valid driver's license

Have valid credit or debit card
Insurance
Hertz Loss Damage Waiver is included in the rental, and applies when off-app and when on-app in "Available" status.
***Uber has there own financing option as well.
Finally for some, this may seem like overwhelming information. For others, this might be the exact thing you need to get started with Uber, Side Car, or Lyft. If you are considering, weigh your options and make sure this is the best option for you.